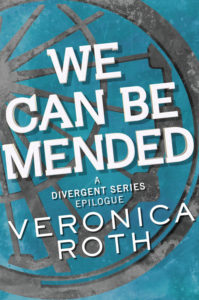 I'm a HUGE Divergent fan.  Veronica Roth could buy... something... with the money that I've spent on her products.  I own the entire series in English, the main trilogy in English and Spanish, and the first book in German and Russian as well.  I also have all of the movies that she's released so far.  Being the huge Veronica Roth fan that I am, I have, of course, already pre-ordered her new book, Carve the Mark (of course I will be reviewing it here).
Did you know that Veronica Roth has created an epilogue to the Divergent Series?  AND you can get it for free?  There's one catch though: you have to either buy Carve the Mark or pre-order it someplace.
I won an Amazon.com gift card in the last couple of days of last year, and I knew exactly what I would be spending it on: the new Veronica Roth book.  So I already have met the requirements to get this free book.  Yay!
So if you want to get the free We Can Be Mended book like me, you'll first have to pre-order the book.  You can get it by clicking on this lovely Carve The Mark link that leads you to Amazon.com (and if you do, I thank you for supporting this blog), or the Amazon.com picture to the right..
Once you pre-order the book, you'll want to follow the following link get the FREE We Can Be Mended Divergent epilogue.  You'll need to submit a digital picture of your receipt, along with your address and basic contact info.  That's it!
The free We Can Be Mended epilogue giveaway is sponsored by Epic Reads, which is a promotional service of Harper Collins Publishers.