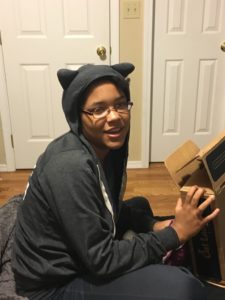 My daughter LOVES cats.  Her birthday present last year was Kitiara the cat, who will appear in this review.
After approximately a 10-year hiatus, I started doing sweepstakes again.  I knew that I would be winning some prizes, but I was so surprised when I got an email from Deals Among Us, less than 2 weeks after I had entered my first sweepstakes, notifying me that I had won a Cat Lady Box!  This was right before Christmas, and we hadn't purchased any gifts for the kids yet.  I knew that my daughter would love this as a gift.  Even though I knew it wouldn't arrive by Christmas, I wrote a note and put it inside a Band-Aid box (giving Band-Aids for Christmas is sort of a joke in our family) telling her that once the Cat Lady Box arrived, it would be hers.
I knew that the Cat Lady Box had some great items in it, but I was kind of hoping that they'd be sending the January box instead of the December box, because I had seen a post by CatLady Box that made it look like there would be a Cat hoodie in the January box (there were some great looking gloves and a ring in the December box though).  I told my daughter that if she got the January box, that it would probably include that awesome hoodie, and I was correct.
I was sent the Crazy Cat Lady box (which includes goodies for your cat as well) which normally sells for $39.99.  There is a $34.99 option that only has items for the Cat Lady in your life.  Other then the hoodie, the items in the box included cat socks, cat bookmarks, a cat picture and two cat toys.
The cat really enjoyed the first cat toy that we got out of the box:
We realized that there were a couple more items in the Cat Lady Box as well:
Overall, my daughter loves her CatLady Box. They have great items for cat lovers in the box every month. While my daughter certainly does not have enough money to subscribe to the box, and we're not generous enough to buy it for her, we have definitely found something that would make her smile if we're looking for Christmas and/or birthday ideas for her and can't think of anything else to get her (outside of art supplies, she can be difficult to shop for). If you have a hard-to-shop-for Cat Lady in your life, I highly recommend this box.
Disclaimer: I received this product free as part of a sweepstakes sponsored by Catlady Box and hosted by the Deals Among Us blog.  I was not asked to review the product as a condition of winning the sweepstakes.  The opinions given here are those of mine, my daughter's and Kitiara the cat.