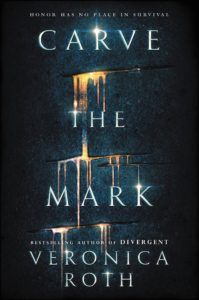 Yesterday I was a really happy camper because I had worked late on Monday and Veronica Roth's new book, Carve the Mark, had already arrived in my mailbox before I woke up.  Thank you mailman!  Of course, I was then up late yesterday finishing the book.
Many people that know me know that I absolutely adore Divergent.  The first time I read the book, it took me a few days to read the first 50 pages or so, but once I got to that point, I read the rest of that book AND the next two books in two days.  Then I read the entire series in Spanish.  I also have the first book in German and Russian.  At one point, I think I was the second best player in the world, of all time, in Divergent trilogy Quiz Up (I was the best player in the world in that game in a couple of different months... I'm currently the 3rd best player in the world of all time).
When I heard a year or two ago that Veronica Roth had been signed to write a sci-fi book about some characters in space, I was a little skeptical.  Is this going to be a Star Trek type book, and is it going to be any good?  I was going to have to read it anyway.
I love this book.  I will definitely be reading the rest of the books in this series when they come out (I believe that this is also supposed to be part of a trilogy).  Although the setting of this book is different, it still has a great plot, characters that you love (and some that you hate), and relationships that you are interested in.  Oh, and there's a plot twist at the end of the book that leave you with theories... and leave you with wanting more.
The book is set in a universe that is quite unlike ours.  As a result, the first chapter introduced a lot of new vocabulary that took a while to get used to (there is a glossary in the back though).  If you feel that way about halfway through the first chapter, don't put the book down!  After the first chapter, the fact that we were in a completely different universe with all different plants and ways of doing things didn't seem so distracting, and I'm sure that as I read through the book a second time, it will all seem normal and I will see more things in the book.
I don't want to give out any spoilers, but I will give out some basics.  In one part of the planet, we have Akos.  He's from a well-off family that cares for each other in a fairly peaceful society.  On the other part of the planet, there's Cyra, part of the royal family in a more warlike society.  Due to circumstances beyond their control, Akos and Cyra are forced to be a part of each other's lives.  They find a way to work together when they find out that they have similar goals, even though on paper, they probably shouldn't trust each other.  While that one-paragraph synopsis might not sound that exciting, the book is.
If you love Divergent, then you're probably going to love Carve the Mark.  Even though the setting is different, people (or human-like people, at least) in Veronica Roth's worlds are people no matter where you go.  Some are inherently ambitious and evil, others have that spark of good, and others are a little more complicated than that.  If you find out that you love both Divergent and Carve the Mark, you might also be interested in Marie Lu's Legend and Young Elites series.  I may review those at a later date, but those are similar books (Legend is a distopian YA novel set in future Los Angeles, the Young Elites is a YA novel set in a different universe).  I may review those at a later date.