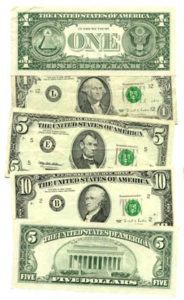 We're still less than a week into the New Year, and perhaps, if we made New Year's resolutions, we've already forgotten about them.  Or maybe we're keeping them.  At any rate, it's never the wrong time to think about improving our finances.  I'm sure that most of us can work in that area.
One of my favorite finance guys is Dave Ramsey.  He has a daily radio program, writes books, and has a Financial Peace University that goes through all the major aspects of household finance.  He focuses on getting out of debt, saving for emergencies and beyond, and then building up a nest egg.  He tells us to "live like no one else, so that later, you can live like no one else," that is, sacrifice today, so that later you will have a decent amount of money and you can give to others like no one else.
If 2017 is the year that you want to get your finances in order, you might want to consider reading Dave Ramsey's Complete Guide to Money.  It's the same book that they use in the Financial Peace University classes, and it covers almost everything that you need to know (although the hard part can sometimes be actually living the principals).
The book covers everything that you need to know about getting out of debt, building a savings, and even dealing with creditors, if you've gotten into trouble in the past.  It talks about getting a home, getting a bargain when you're shopping, and investing.  It also has all the forms that you'll need to use to get a budget started in the back of the book (although you'll probably end up using an Excel spreadsheet, since you'll want to do a budget every month).
If you're not familiar with Dave Ramsey, he suggests going though several different baby steps on your road to financial freedom:
Put together a baby emergency fund of $1000 (in case something catastrophic comes up.
Pay off all of your debts (with the exception of the house) from smallest to largest.
Put 3 to 6 months of expenses into savings.  This is in case something catastrophic comes up, like a job loss.
Invest 15% of your income into retirement.
Save for your children's college.
Pay off the house.
Build wealth and give a lot of it away.
The farther along you go down these baby steps, the better it feels.  Sometimes, unfortunately, things happen and you can slide backwards (it's happened to me... we've had the baby emergency fund and then the emergency happens) but if you have don't have a plan, it's never going to get done by accident.
The Complete Guide to Money is well-written, easy to read, and if you live it, it really works.  The closer my husband and I live to this plan, the better we feel about what's going on financially.  It provides inspiration with little sidebars about people that have lived the plan and have succeeded.
If you're looking to win with money in 2017, and you haven't learned the basics of financial planning yet, I definitely recommend this book.